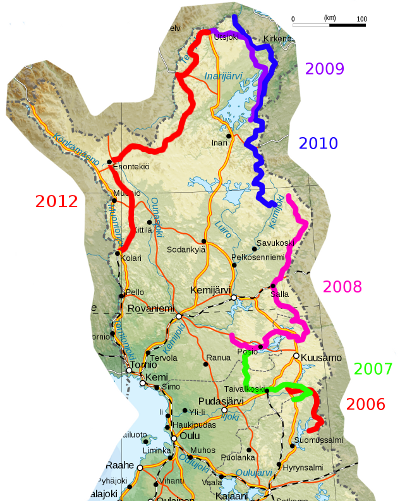 Original map: Wikimedia Commons
I have hiked with my Father in the Hossa region in Suomussalmi since I was 6 years old. Our map of the area also showed the Martinselkonen region to the South, and Kylmäluoma to the North. I had long thought it would be fun to hike across the entire map. Later, I had bought a tiny but light one-person tent (Jack Wolfskin Gossamer) in case I want to do a solo hike sometime. One further coincidence led me to hike alone from Martinselkonen, through Hossa, to Kylmäluoma in 2006. That took three weeks, and I liked it.

The following summer, 2007, I started near Posio and hiked South-East through Syöte, Taivalkoski and Kylmäluoma into Hossa, during four weeks. That did not seem like too much or too long either.

So in 2008 I embarked on a six-week hike that still remains one of my favourites. I started again near Posio, in order to connect with my earlier hikes, and headed North. First I toured Korouoma (not really part of the trail, but I'd wanted to see it for a while, and it was conveniently located), then traversed the Riisitunturi National Park, and headed to Ruka. There I met my friend Janne, and we toured the Karhunkierros ("Bear's walk") trail in Oulanka National Park. Alone again, I headed towards Salla. I had the option of returning home from there, but not ready to quit yet, I went onwards into the Tuntsa wilderness. If you like, you can look at photos from that hike.

In 2009, I only had four weeks time for hiking. The Finnish amateur astronomers' summer meeting Cygnus was held at Utsjoki, the Northern-most town in Finland, so I started my hike from there with my friend Mikko, who also attended Cygnus. We crossed the Kaldoaivi wilderness and headed for Sevettijärvi, where he had to leave me. I carried on alone through the Vätsäri wilderness around the Eastern side of Lake Inari. I had planned to join my Father and continue together through the UKK National Park, but my knees were giving me trouble, so the hike was cut short and we went canoeing in Hossa instead. Here's some photos.

So in 2010 I began close to where my 2008 hike ended, and headed North along the Kairijoki river, through the UKK National Park, the Sarmitunturi wilderness, once again into Vätsäri (this time via a more Easterly route close to the border) and to the town of Näätämö. Since my knees were not giving me trouble this time, I continued onwards to Nuorgam, using up my six weeks of holiday. Photos from that hike, ja matkapäiväkirja suomeksi.

I did not have the chance to go hiking in 2011, so in 2012 I really needed to get away from everything for six weeks of wilderness. Having already seen so much of the Eastern border, I headed to Western Lapland this time. I took a train to Kolari, and walked to Utsjoki. Along the way were some marked trails in the vicinity of Ylläs and Pallas, and some in the Lemmenjoki National Park and the Kevo nature reserve. Photos from 2012, ja matkapäiväkirja suomeksi.

In 2013 I started from Saariselkä, and followed the Ivalojoki river upstream through the settings of the movie "Lapin kullan kimallus". I passed the village of Lisma and the Rämikattamavuoma mashlands, then followed Ounasjoki river to Hetta. Along the way I spent the night in a wilderness hut not marked on any maps, and found the ruins of another hut that had been demolished just two weeks before. Photos from that trip, ja matkapäiväkirja suomeksi.

In 2014 I took Katja hiking in Lapland. We started out from Sevettijärvi, romped through the rocky wastes of northern Vätsäri to the eastern border, resupplied in Näätämö, and then hiked through the Kaldoaivi wilderness all the way to Utsjoki. Photos from 2014, ja matkapäiväkirja suomeksi.

In 2015 Katja and I started our hike from Kilpisjärvi, at the north-western tip of the "arm" of Finland, and walked south-east until we hit the Lätäseno river 1.5 weeks later. Photos from 2015, ja matkapäiväkirja suomeksi.

In 2017 we started from the town of Inari and headed into the Muotkatunturi wilderness. We made our way towards Karigasniemi, following during the final few days the same trails I had taken alone in 2012. After resupplying and going to the sauna, we headed into Paistunturi and towards Utsjoki, again following some of my old trails from 2012 at the very end of the hike. Photos from 2017, ja matkapäiväkirja suomeksi.

In 2018 we visited my old haunts in Hossa and Martinselkonen. I've been there quite often in the winter lately, but hadn't visited Hossa in the summer since 2009, and Martinselkonen since 2006. Also I wanted to show Katja where I've grown up and been hooked onto hiking. It was beautiful. Photos from 2018, ja matkapäiväkirja suomeksi.

In 2019 I spent some three weeks hiking alone from Inari down towards Sodankylä, first through the Hammastunturi wilderness, then along the Ivalojoki river, and then south through the endless marshlands on the western side of the Porttipahta artificial lake. Photos from 2019, ja matkapäiväkirja suomeksi.

In 2020 I took Katja to the Vätsäri wilderness on a 2.5 week hike. We started near Nellim, and headed north on the eastern side of lake Inari, via Nammijärvi, Mellalompolo and Surnujärvi lakes, then entered the rocky wastes of Vätsäri and followed the Routasenkuru ravine and then the Norwegian border to Näätämö. We finished up the hike at Sevettijärvi where we got to via the Saamenpolku trail, then lake Vainosjärvi and the Sollomusjärvi wilderness hut. Photos from 2020, ja matkapäiväkirja suomeksi.

In 2021 we hiked 3 weeks from Ivalo to Vuontisjärvi near Hetta, through the Hammastunturi wilderness, the Lemmenjoki National Park and the Pöyrisjärvi wilderness area. After the hike we traveled home via Ranua and visited their Zoo to see its famous polar bear. Photos from 2021, ja matkapäiväkirja suomeksi.

In 2022 we started from near Ivalo and headed through the Sarmitunturi wilderness, UKK National Park and the Kemihaara region to Tulppio during 2.5 weeks. Along the way we visited some of my old haunts from 2010, and found the secret Sarmikuusikko cabin ("Karhukammi"). Photos from 2022, ja matkapäiväkirja suomeksi.