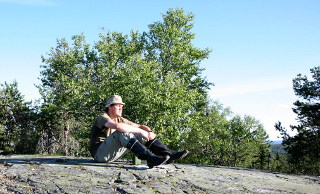 I especially love hiking in the wilderness. I've done that since I was six years old. At one time, I took to hiking longer distances (some 400 km or so) over a longer time (say 6 weeks) alone in the wilderness of Lapland. Why alone? Partly the freedom, partly the adventure, partly because no-one else is as crazy as me...? I don't mind company, in fact. It's nice to chat with other hikers when I occasionally meet them. But there is something special about being all alone in the great Wilderness, roughing it out and surviving on your own, experiencing—no, living—the grandeur of Nature and the smallness of man in comparison...

I mean look at the enormous fells, the tall trees, the wide blue sky, the endless forests, the thousands of lakes... And if you look real carefully, there in the middle is little old me, sitting comfortably at a small campfire, cooking fresh fish, with a dreamy look on my face.

Lately, my girlfriend (now wife) Katja has joined me on several shorter (two weeks, give or take) hikes. She's crazy enough to survive in the wilderness with me.